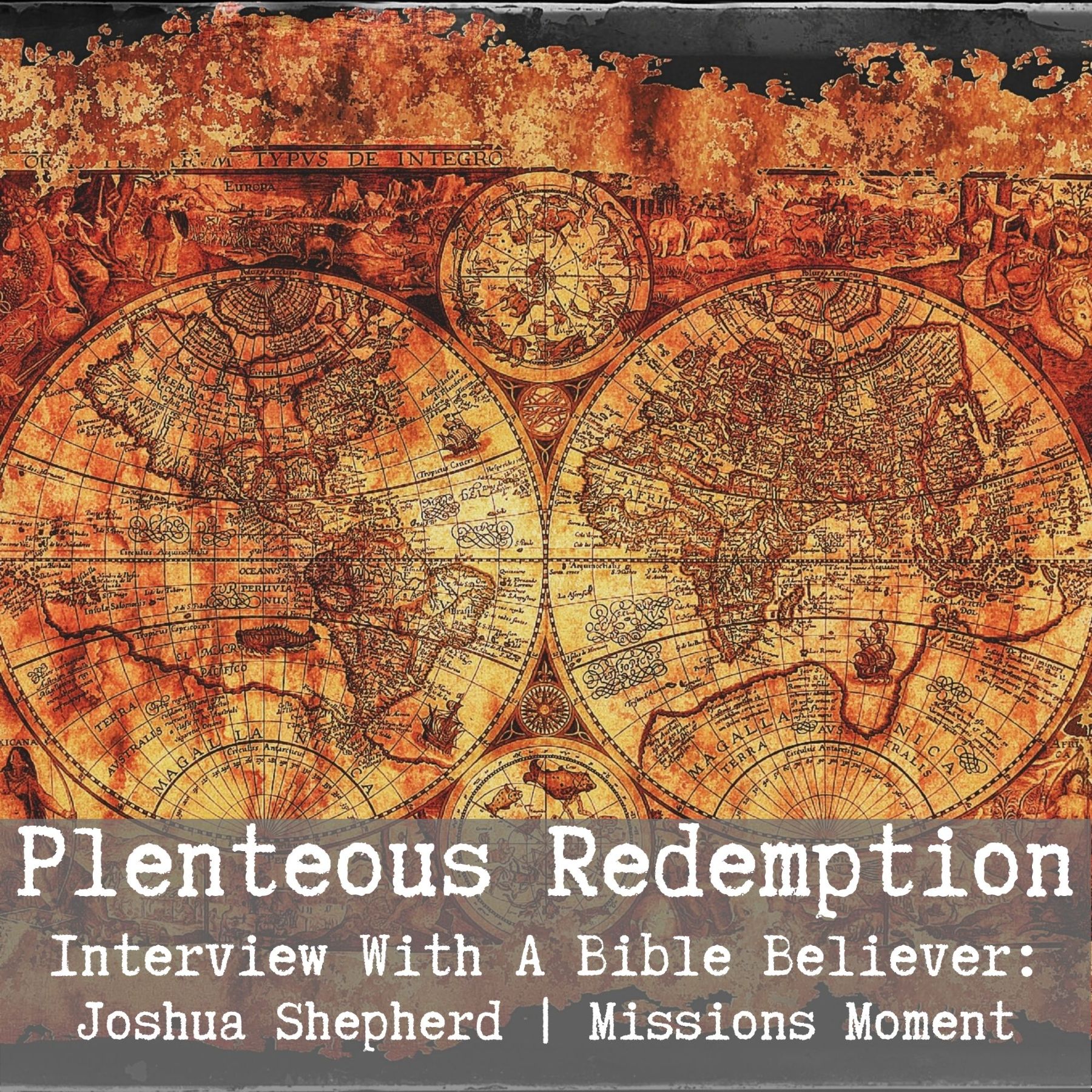 Interview With A Bible Believer: Joshua Shepherd | Missions Moment
May 1st, 2020 by Thomas Irvin
Joshua Shepherd | Missions Moment
Joshua Shepherd serves the Lord at a Christian radio station in Kentucky. He uses time on the radio program to encourage God's people to lift up their eyes and look upon the fields. Missions Moment is a foundational aspect of the radio program. It is also posted online in a Facebook group. The purpose of this group is to pray for the World and that the Lord would raise up laborers. Brother Joshua will post a Missions Moment every weekday that details certain pertinent information regarding some needy part of the world. More information can be found in the links below. 
Introduction: 
What is your name and where do you serve Jesus Christ? 
Briefly tell us about the members of your immediate family (wife, children, etc.) 
Childhood/Early Life: 
Where did you grow up?

Did you grow up in a Christian home? 

If not, what was the background of your early life?
Ministry: 
How did you come to know the Lord Jesus Christ as your Saviour? 

I noticed on the Missions Moment webpage, you emphasize the KJV, what has the King James Bible meant to your life and ministry?

Missions Moment is a webpage hosted online as a Facebook group. In which you try and post each weekday information about a different country along with a write up that details a brief history and certain demographic related information.

Have you seen that people are more inclined to refrain from going somewhere because of its geographical location?

You have in the past reached out to my wife and me when posting about Uganda and Rwanda, encouraging others to pray for us, we greatly appreciate that!

What is your purpose for doing this?

What do you hope will come of it?

I really enjoy seeing the overlays you add which give us some insight as to the physical size of a country in reference to the United States. During the span of time you have been doing this, have you noticed any role that geography plays in American's willingness to surrender to missions?

Have you learned anything new about specific cultures that interest you more than others?

Missions Moment often connects missionaries online to their respective fields, have you been able to establish relationships with missionaries around the world through this medium?

If people were to visit the "Missions Moment" webpage, briefly tell them what they will find there, and what you would like them to do with this information.

While trying to learn more about you, I stalked you online and learned you work at a Christian Radio Station.

(I am unable to visit the website - it will not load.)

What is your role there?

How did you get involved at the radio station?

The website says it's the oldest Christian radio station of it's kind in western Kentucky, what does that mean?

The radio station promotes preaching and teaching the gospel of Christ, are there specific people on the radio station whose preaching you broadcast?

This radio station is a ministry of Island Ford Baptist Church in Madisonville, Kentucky - what role if any do you hold there at the church?

The station website strongly promotes its conservative values, in a day when many churches are quickly heading in liberal contemporary directions, why is it important that you hold firm traditional biblical standards?

Would you tell people where they can find Missions Moment and where they can listen to your radio station?
To Learn More About Joshua and Missions Moment:
WSOF Radio - https://www.wsof.org/
Missions Moment - https://www.facebook.com/groups/2032821080269987
Plenteous Redemption: https://plenteousredemption.com/
Share
|
Download(

Loading

)